Features
April 12, 2022
Canada Games Legacy Series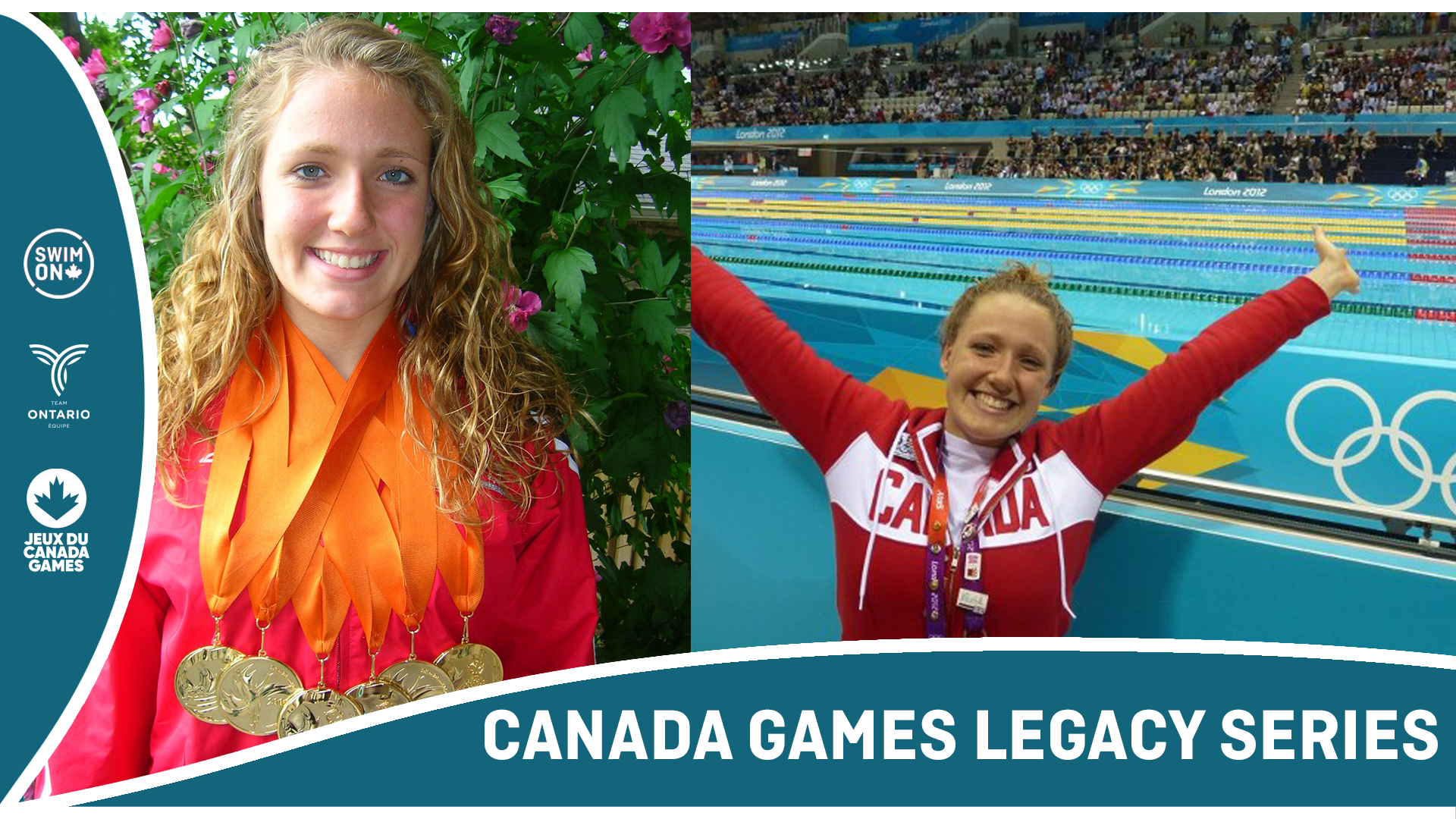 Tera Van Beilen
Over the next few weeks, Swim Ontario is presenting the Canada Games Legacy Series, where we take a look back at swimmers who represented Team Ontario at past Canada Summer Games.
---
There is something to be said about inspiring girls to become confident in sport, and believe that greatness is possible.
Tera (Van Beilen) Maloney knows that feeling because she has experienced it. Now, in many ways, she's an icon of success for others.
It may have been back when she was five years old, benefitting from a pool in her home backyard, that a light started to trickle. One of a youngster's desire to be competitive, noticed, and having that desire to win.
Van Beilen, now married and whose maiden name we will use in this feature, has many stories about her younger years in the world of arts and sports. There were those ballet lessons, playing piano and the introduction to soccer.
But it was always swimming that superseded everything else.
She eloquently described it as "that urge to stay in the pool, never get out and even, at times, want to eat dinner while in the water".
That may have been an early taste of what would lie ahead for this water baby.
There's a New York city pop band, called American Authors, known for the song "The Best Days of My Life". Listen to it. Tap your foot to the music, even sing along if you know the lyrics when you read more about Van Beilen.
"I had a dream so big and loud
I jumped so high I touched the clouds
Wo-o-o-o-o-oh, wo-o-o-o-o-oh
I stretched my hands out to the sky."
Best Days of My Life, American Authors
It might be a tune that she may consider attaching to her prosperous swim career.
When mentioning the real inauguration to competitive swimming, this might surprise many. It wasn't any of the events she competed in - the Commonwealth Games, FINA World championships or even the Summer Olympics.
It all started in 2009, in Charlottetown, P.E.I., at the Canada Summer Games.
Canada's national spotlight on amateur sport was where Van Beilen would begin to relish fame with a remarkable performance and go on to win six gold medals.
"I remember it very well and asking myself – how did I do this," she said in a recent telephone conversation. "Also, medalling at the Canadian Nationals and realizing that I was able to do more than just the breaststroke, but also compete in the relays and help my team. That was the year that started my competitive swim career."
With the beautiful Niagara Region of Ontario hosting the 2022 Canada Summer Games in August, an event that brings together some 5,000 promising athletes, a mere mention of those days brings back fond memories for Van Beilen, who has a Maple Leaf tattoo on one of her toes.
"The Canada Summer Games were an incredible experience, a special time in my life and a glimpse at top level athletes in many sports," she said, while also confirming a rumour that she liked to eat yoghurt-covered raisins before competing.
"Things were different in my day, as you could be a National calibre athlete in those Games. But now, it's really focussed for younger kids with potential – more of a stepping stone for success, to experience and cherish the moment. It could very well be the start of something big for many."
While she graduated from King's Christian Collegiate in Oakville, a school that now has the "Van Beilen Endeavour Award" given to a student who excels in arts, music, or sports outside of school, her swim keys to success started with the Oakville Aquatic Club.
Choosing post-secondary education in Canada, over numerous athletic scholarship offers from schools throughout the National Collegiate Athletic Association (NCAA), Van Beilen picked the University of British Columbia.
Not only did she continue her academic honors success, and left UBC with a Degree in Kinesiology, but she was on the Thunderbirds incredible swim team that won four consecutive Canadian Interuniversity Sports (now re-branded to USports) championships.
There was also the Swim Youth Olympics in Singapore, where she won three medals, that would come a year after the Canada Summer Games. One who excelled in the breaststroke, Van Beilen would add one major event after another. Then came the electrifying and emotional time in her life that she will never forget.
"The Canadian Olympic Trials in Montreal, I knew when I had touched the wall that made the qualifying time needed to make Canada's team for the 2012 Games in London (England)," she said. "You can't imagine the feeling of representing your country at the Olympics."
That was the same Van Beilen, who didn't like wearing swim goggles or a bathing cap as a youngster, and preferred to sleep in on mornings devoted to swim practices. That is, until her parents asked her to make a choice between sticking with swimming and its challenges, or packing it in. Judgment time, and she picked swimming and has never looked back.
Both her parents had been athletes, an uncle played in the National Hockey League and a cousin in the Canadian and National Football Leagues, the genes were in the family.
With her competitive days eventually now having come to a close, she really hasn't bid adieu to the sport. She's now Marketing Manager for Speedo Canada, a company that inspires swimmers by offering up a brand of stylish merchandise.
"Swimming helped me in life and brought me so much joy," she said. "There were many times when I could laugh, cry through my goggles, release so much energy, and allow me to make friends for life."

---
David Grossman is a veteran multi award-winning Journalist and Broadcaster with some of Canada's major media, including the Toronto Star and SPORTSNET 590 THE FAN, and a Public Relations professional for 45+ years in Canadian sports and Government relations.