Features
June 2, 2022
100 Years of Swim Ontario Series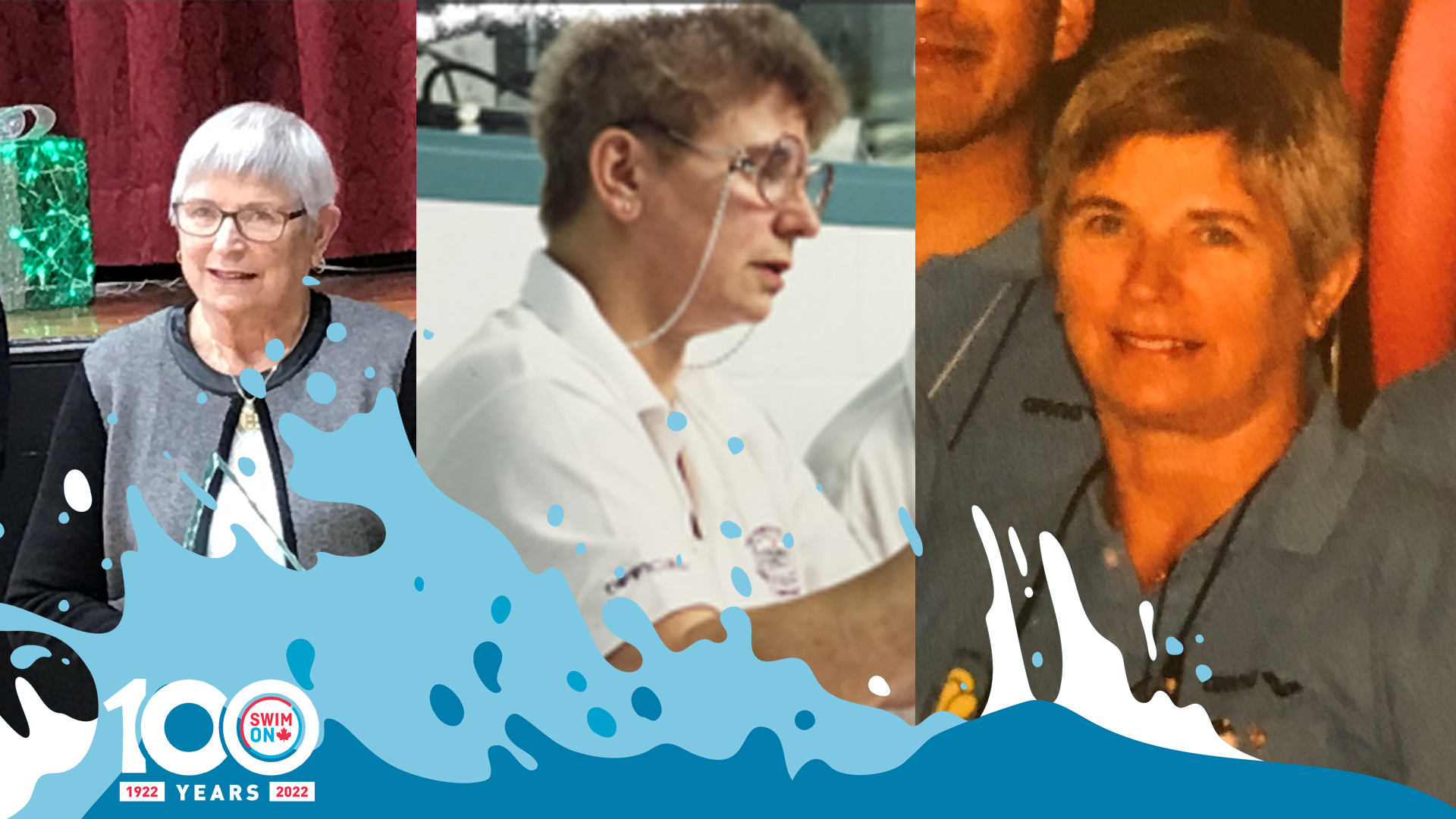 Official - Chris Margetts
"We have rules for a reason, and as (swim) officials we ensure that everyone follows the standards of fair competition."
Take note, she's one individual who won't accept any nonsense from coaches or athletes.
Hmm, sounds like we could use more people like Chris Margetts.
An elite level official, Chris takes the act of achievement in the pool as seriously as swimmers take their performance. While she hasn't done much officiating of late, it's likely because at 82 years of age, things might be just a little more challenging.
This isn't breaking news, but what is momentous is that Chris – she likes to be known by her first name – is one of less than a handful of long serving active swim officials in Ontario in their 80s. Lee (85) and Elaine (83) Batstone and Irene MacLeay (83) from Thunder Bay continue to help at local meets. Quite an accomplishment.
A Level 5 official, Chris is one special individual with numerous positive characteristics that become addictive to those who cherish this remarkable woman. Margetts has worked swim meets across the country, and for eight years was Canada's connection to FINA - the world-wide federation recognised by the International Olympic Committee for administering international competitions in water sports.
Not one for accolades, Chris is quite the opposite. She sees her job as making sure people follow rules and ensuring that everything is fair.
"Swimming has been very kind to me," said Margetts, a graduate of the Torquay Girls Grammar School and a well-educated woman, who came to Canada in 1975 from a small village in England. "I joined a swim club at age 11, had lots of fun and enjoyment and it made me feel comfortable being with other people."
When she is at poolside adjudicating, there is no one more focussed on determining what is acceptable - and what's not.
"We have rules for a reason, and as officials we ensure that everyone follows the standards of fair competition," said Margetts, who now resides in Elliot Lake, a beautiful community on the north side of Lake Huron, and midway between Sudbury and Sault Ste. Marie.
Knowledgeable and astute, she has been a leader in encouraging women to officiate in swimming. Experienced, knowledgeable, and focussed, she was one of the go-to officials for many major swim events.
Margetts officiated, on behalf of Canada, at numerous world-wide competitions. Among them, the 1997 Pan Pacific championships in Japan, the 1998 Commonwealth Games in Vancouver and the 2002 World championships in Moscow.
In 2006, she focussed her officiating knowledge on para swim, also volunteering as a team manager for the Canadian Swim Team, travelling to various meets across the country.
A swim enthusiast, Chris (and her husband, David), started up the Elliot Lake Aquatic Club just a year after settling in Canada, first in Mount Albert, before making the Northern Ontario community their home the past four decades plus.
"When you have a club that wants to get into competitive swimming, you need to have qualified officials," she said. "That's when it all started for me."
Margetts benefitted from courses at the Etobicoke Olympium in Toronto, later in the Barrie area, and earned her Level 5 status of officiating in Sudbury. She's officiated at swim meets in every province, other than Prince Edward Island, Newfoundland, and the Northwest Territories.
"It's not easy being an official, you need to know the rules, stick to them and prove yourself to others," said Margetts. "Something that is always difficult is disqualifying a swimmer. You don't like to do that to people. People protest and grumble. Officials have a responsibility. It's that simple."
Chris is in the Swim Ontario spotlight as it continues a salute to officials, like her, as well as coaches, athletes and so many others, during the 100-year celebration of Canada's largest provincial swim organization.
Well known in her community for her countless hours of volunteer work, Margetts has spearheaded swimming clinics that teach people about how to become an official. It's something very important to her. She's concerned that a lack of officials could create future problems for swim meets.
"It's all about benefitting children – and especially for those who don't live in the bigger cities that have so many more people," said Margetts, the mother of four children, eight grandchildren and four great grandkids.
Her commitment and dedication are things that did not go un-noticed. In 1999, Chris was honored with the Ken Filippelli award as Swim Canada's Official of the Year. Elliot Lake recognized her work in 2020, with a prestigious Civic Award.
She is also working with a committee to develop a new recreational facility. In her community, a generation of children have benefitted from the emotional, social, and physical perks of swim training and competitions.
"I have great memories and have met many nice people," she said. "It's so nice to see young people swimming, but that can only happen in a club like this if there are coaches and officials. I'm not always going to be here, so we need to keep rebuilding and adding new faces."
There's an expression "anything that can go wrong, will go wrong". That's language about Murphy's Law, named after an American engineer working on a project involving deceleration.
Margetts is one individual who is a proponent who likely follow something referred to as Yhprum's law. Look at that carefully and you'll see Murphy spelled backwards. It's an expression emphasizing that "Everything that can work, will work".
---
David Grossman is a veteran multi award-winning Journalist and Broadcaster with some of Canada's major media, including the Toronto Star and SPORTSNET 590 THE FAN, and a Public Relations professional for 45+ years in Canadian sports and Government relations.