Features
July 12, 2022
2022 Canada Games Team Feature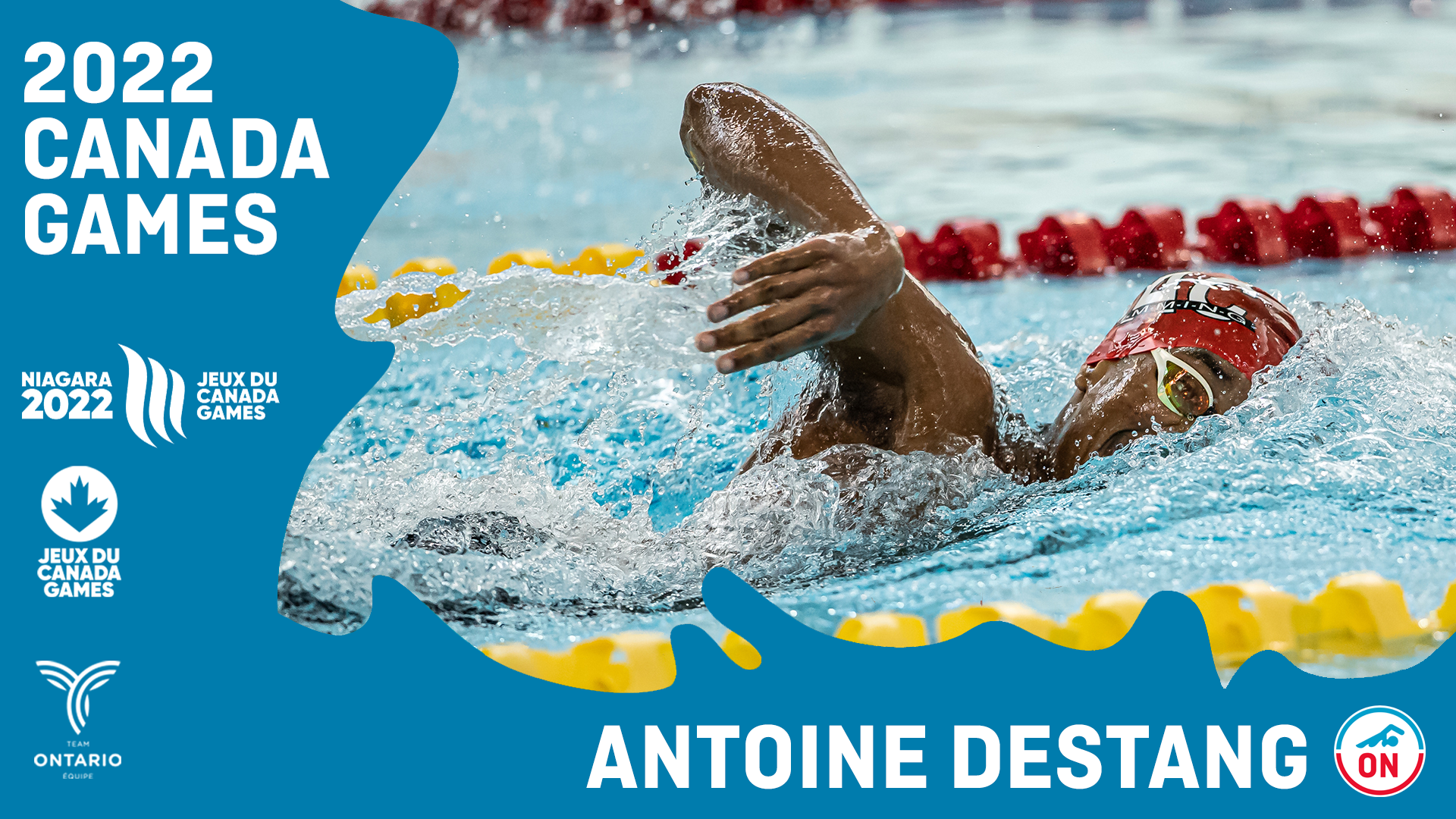 Antoine Destang
Leading up to the 2022 Canada Games, we are sharing stories about some of the people representing Team Ontario in the pool this summer
---
It is seen, in many ways, as a lasting impact.
Coaches leave footprints which are often easy to spot. They perform exceptionally well, that their work is shown by the performance of the individuals they have supervised, advised, and instructed.
A classic example is watching the performance of Antoine Destang – one of the few young Canadian swimmers of African/American descent, who have taken to the aquatic sport. A rising star, he's also a huge role model for other minorities.
Destang knows the benefits of a good coach. Astute, one with a thirst for knowledge, athletic, and steadfast at achieving progress and fame, he is well on the way to becoming a Canadian swimming sensation.
The 14-year-old has learned a great deal through a combination of his progress and persistence to reach for the top. He'll get a chance to show it, as a member of Ontario's powerful contingent at the 28th edition of the Canada Games set for August 6 to 21 in Niagara Falls and St. Catharines.
Destang was born in Toronto, moved to the beautiful Caribbean island of St. Lucia to live with family. He went to Montessori school until he was 11 years old. Swimming in a part of the world that is a vacation paradise for others, is like youngsters growing up with hockey in Canada.
He learned to swim well before his third birthday, and took the sport seriously six years later. The victories, in St. Lucia, started to pile up – and he still has his first trophy. When he returned to Canada, his parents signed him up to attend St. Andrew's College - a private university preparatory school that boasts academic achievement, athletics, and leadership development.
Getting to the school was quite a challenge for him – especially since he lives in Toronto's North York and St. Andrew's is situated in Aurora. That's about an hour north by car. Let's toss in his commitment to the Etobicoke Swim Club, where he is coached by Rob Novak. All in all, lots of time spent in vehicular traffic.
For Destang, his lifeline has been swimming.
"I grew up being around water and learned to swim safely," he said in a telephone conversation. "It wasn't long before I got serious about competing and really benefitted from good coaching."
It should be noted that the 5-foot-11 Destang, now completing grade 9 at St. Andrew's, at one time was one of the top swimmers in the Caribbean and Latin America.
Now, he's believed to be in the top two for his age group in Canada. Toss in his Canadian National record for swimmers in the age 13-14 category set at the Ontario Junior International meet in Toronto. Just in case you wondered, his time for the 100-metre butterfly was 55.22 seconds.
Destang was the only 13-year-old to qualify for that meet which had been open to the top under-18-year-old swimmers in Ontario.
Onlookers have continued to talk about his performance after seeing his name added to the Ontario record books with several records and stellar performances in the short and long course races. He has dominated in select freestyle, backstroke, butterfly, and individual medley events.
While medals and trophies have piled up for him, Destang is not one to brag about them. That is shown in his performance. He's focussed on academic honors, swimming and even plays the clarinet.
"I want to take swimming as far as I can," said the youngster, who trains nine times a week and saves Sunday as his day of rest. "Every kid wants to make it to the Olympics for one sport or another. Now that I have the urge to do so well, I am no different. The Olympics is still a dream, but you never know."
Destang was in an English class at St. Andrew's when he received a text from his mother. The message was succinct: he was chosen to Ontario's swim team for the Canadian amateur sport spectacle.
"It's my first time (to the Canada Games) and I am very excited," said Destang, who is already tinkering with post-secondary plans and the idea of combining swimming with academic studies at either Harvard or Stanford before pursuing a career in business.
"(The Canada Games) has been a goal of mine and I also see it as another major step to the bigger goal – to make it to the Olympics."
---
David Grossman is a veteran multi award-winning Journalist and Broadcaster with some of Canada's major media, including the Toronto Star and SPORTSNET 590 THE FAN, and a Public Relations professional for 45+ years in Canadian sports and Government relations.