Features
July 7, 2022
2022 Canada Games Team Feature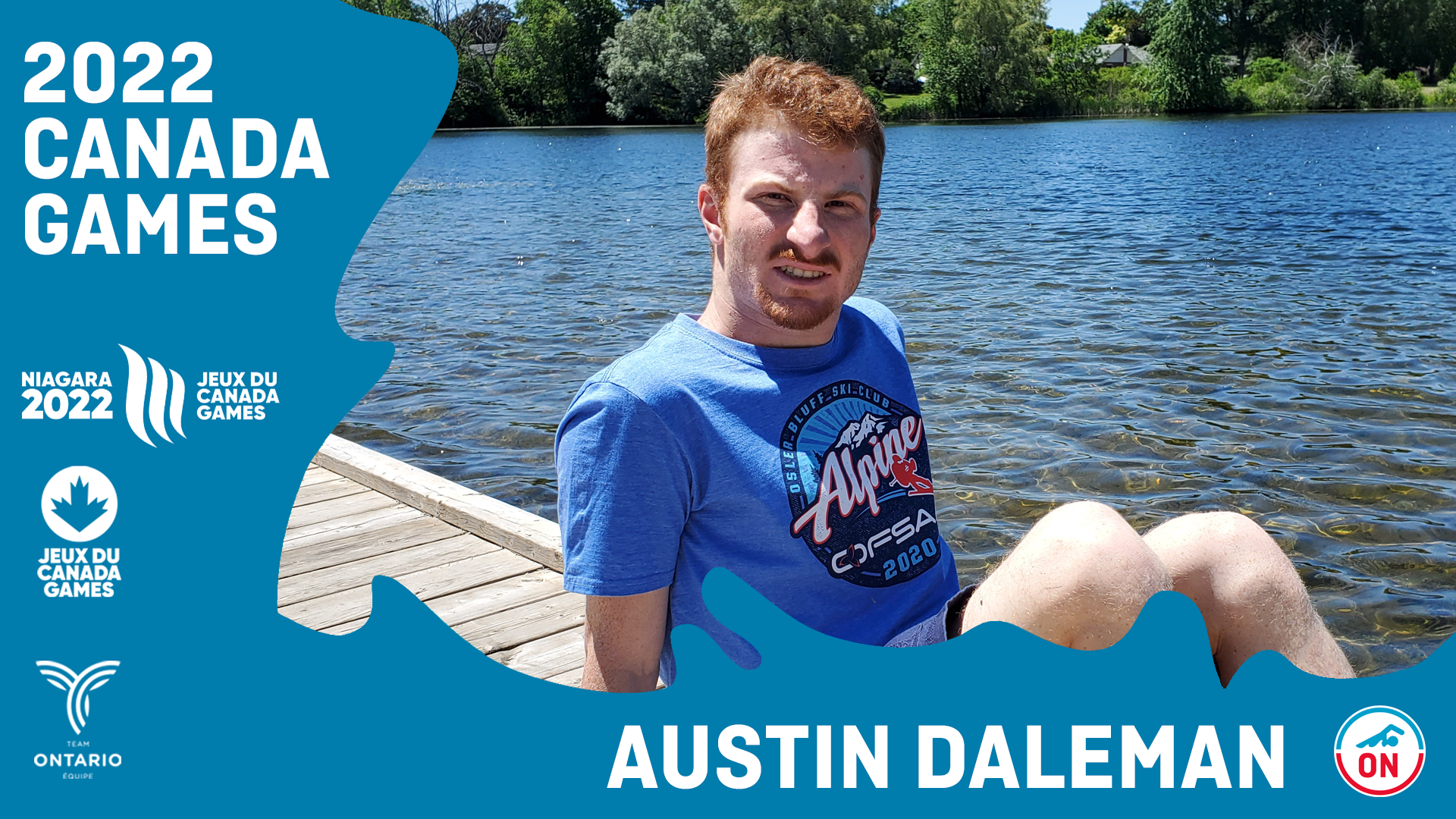 Austin Daleman
Leading up to the 2022 Canada Games, we are sharing stories about some of the people representing Team Ontario in the pool this summer
---
Energetic and electrifying.
There's no better way to describe Austin Daleman when he enters a swimming pool. He's fixated on a mission of success and focussed on doing better than he did the previous time.
Not one for displaying widespread anxiety, Daleman is now preparing for another confrontation – one that has some of the best amateur swimmers in Canada about to compete for awards, personal glory, pride, and the usual bragging rights that are part of the sports world.
This time, it's the Canada Games, a monumental event set for later this summer in the Niagara Region - one of the hot spots for Canada's tourism sector. While thousands descend on the area every year to see the attraction of gushing waterfalls, Daleman has other plans. Deep down, he's hoping to have people jabbering about his achievements in the swim competition.
Simply put, Daleman intends to be enthralling people with success in Special Olympics freestyle, backstroke and breaststroke events taking place at Brock University's Aquatic Centre.
Give the youngster an opportunity to compete, or as some describe him as "the kid with the bright red hair", Daleman has caught the attention of others in the past. His plan is to do it again, which is a key factor on a decision by Swim Ontario to select him as part of the 2022 team.
Daleman is autistic with an intellectual disability. Things are different. He has also learned to deal with challenges.
Training five days a week in the pool, he's always finding ways to stay in strong physical shape. One for enjoyment via bike rides and long walks, Daleman is a darn good skier and earned several Ontario high school alpine medals in the para athletes category.
Not one to back away from opportunities, Daleman volunteers in his community assisting at the fall fair, food drives, festivals, and a variety of other events. At the Oakville Trafalgar Memorial Hospital, he was involved with "Project Search" – his classroom for his final year of studies at Georgetown District High School.
The opportunity allowed Daleman to complete internships in the emergency room, medical device reprocessing, and the pathology laboratory. This amazing achievement now puts him in a position to seek employment.
Owner of a great memory, Daleman works hard, sets goals, and has had an excellent record achieving them. He is, who he is.
When Daleman was a youngster living in Acton, a small community and about a 45-minute drive west of Toronto, his parents had signed him up for swim classes. It wasn't long before Daleman got hooked on the sport and would become a member of the Acton Aqua Ducks Swim Club.
There are professionals who will confirm that wandering by children with autism is quite common, sometimes dangerous, and puts tremendous stress on families.
With the family home near Fairy Lake, his parents knew that the combination of curiosity and water could have tragic consequences. A happy medium was making sure that Daleman could swim.
That's something Daleman can now do quite well. If there was any bashfulness by the 20-year-old, it's long gone and clearly replaced by an incentive: to excel in swimming.
"The goal is personal best times," said Daleman, who meets the criteria to swim in the Special Olympics classification. "I know there will be great swimmers - and I also know that I will do my best."
Dalemand competed at the Special Olympics qualifying meet held at the Toronto Pan Am Sports Centre in April and then while competing at the Eastern Canadian championships in Pointe Claire, Que., Daleman and his mother received an email from Swim Ontario, informing Daleman that he had been chosen for the sport spectacle set for August 6 to 21. It's an event that brings together some 2,500 able bodied athletes as well as others with physical and intellectual disabilities for what is known as the largest amateur multi-sport event in Canada.
"I'm really excited - and this is my first time to these Games," said an ecstatic Daleman, who is hoping to do as well as his three-medal performance at the Special Olympics National Summer Games in Antigonish, N.S., back in 2018.
For the past eight years, he's been commuting to Georgetown training with the Halton Hills Waves, a Special Olympics team and has also devoted four years as a member of the competitive Halton Hills Blue Fins swim club.
There's a saying that "the longer you wait, the better it gets". For Daleman, he knows that all good things are worth waiting for – but elite performance in the pool doesn't happen overnight. It requires meticulous attention to details, discipline, and confidence.
While some of his past races have finished in dramatic fashion, for Daleman, you won't find fame confused with his accomplishments.
"For me, it's about goal setting, lots of practice and always striving for excellence," he said.
---
David Grossman is a veteran multi award-winning Journalist and Broadcaster with some of Canada's major media, including the Toronto Star and SPORTSNET 590 THE FAN, and a Public Relations professional for 45+ years in Canadian sports and Government relations.