Features
March 31, 2022
Canada Games Legacy Series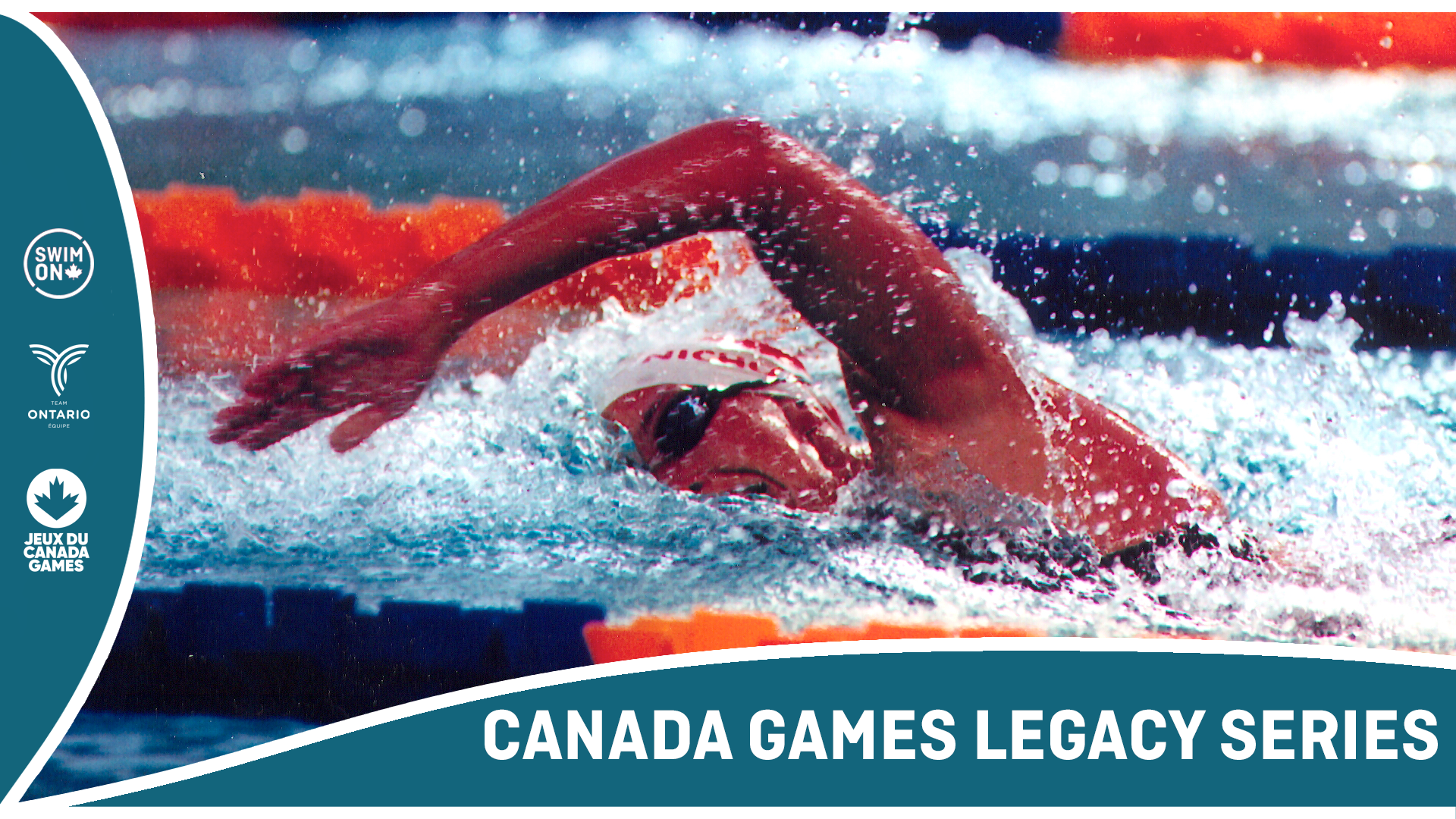 Laura Nicholls
"Enjoy the experience, observe, learn, grow, and use the Canada Games as a platform for something better."
- Laura Nicholls
---
Everyone has a different journey in life.
Looking back, Laura Nicholls can share some great moments in her illustrious swim career that included dominating races, standing on the winner's podium, and competing for Canada at major international events.
She's a prime example of an elegant skilled athlete with a special gift that defines her name.
A prodigy of the Region of Waterloo Swim Club, Nicholls recalls watching memorable Olympic medallists like Victor Davis and Mike West at the same club. Brilliant swimmers Joanne Malar and Marianne Limpert would also be added to her list of role models.
It was their accomplishments and fame, that spirited a very young Nicholls to strive for the top.
Now, having won her share of medals from Kuala Lumpur and Manchester in the Commonwealth Games to Fukuoka, Sydney, and Yokohama in the Pan Pacific Games, and five more, all in Winnipeg, at the Pan Am Games. With more than 30 international medals, Nicholls has an abundance of journal memoirs.
Nicholls is also a two-time Olympian. She was on Canada's team, and one of the youngest at 17 years of age, at the 1996 Summer Games in Atlanta and she finished 29th in the 50-metre freestyle. Four years later in Australia, she reached the final of the Sydney Games on two occasions with the Canadian relay teams. They were seventh in the 4x100-metre freestyle, and sixth in the 4x100-metre medley. In the 100-metres freestyle, she finished 14th.
Roam through her fabulous swim journey, and the experience that really had a huge impact on Nicholls, might surprise you.
It goes back to when she was a 14-year-old. That's when she was selected to Ontario's team for the Canada Summer Games. A few weeks earlier, she would win her first National medal - but that was in a team relay.
It was 1993 in Kamloops, B.C., that Nicholls would be called to the medal podium three more times. That also included her first individual medal, on a grand scale, a silver in the 50-metre freestyle. The other two, also silvers, were in relays.
If there was a clear signal of what was coming for Nicholls, that was it.
"(The Canada Summer Games) was a big time for me and an extension of my National experience," she recalled while reminiscing from her Waterloo home. "There are times when you remember events for different reasons and swimming at those Games reassured me that I was in this sport because I really enjoyed it and had so much to show."
Nothing comes easy in life. Doing your best in swimming, like so many other things, just doesn't happen with the blink of an eye.
"Competing at the Canada Games is an opportunity to lead should you have that desire," said Nicholls. "I saw it as a taste of what was out there and decided to make the best of the opportunities."
Swimming certainly enhanced her values in life.
"I had made Provincial tour teams, won races and medals, but my name never went in the record book until I turned 17 years old," said Nicholls, who would establish Canadian and Ontario age group records in the 50-metre freestyle.
"I keep telling people that you don't have to be the best at the youngest age. It's all about perseverance and continuing to always challenge yourself to do better. It's something that speaks for more than just swimming."
Nicholls persisted at younger age, too.
It started with swim lessons at age four, and when her older sister pursued the competitive route, she didn't want to sit back and watch. With superb coaching and her dominant stroke, it was the birth of a future Canadian star freestyle swimmer.
At age 10, watching the Olympics, Nicholls felt the inspiration.
"I remember watching and was so impressed," she said. "I knew that this was what I had wanted. I was committed, worked hard, and wanted to be an Olympian just like them. My parents were always very supportive and even on days when I wanted to quit swimming, had doubts and felt like my times weren't improving, they said to stay focussed and finish what I had started."
Nicholls was inducted to the Waterloo County Hall of Fame and, in 2010, had a similar honor with the Ontario Aquatic Hall of Fame.
Now coaching with the Guelph Marlin Aquatic Club, Nicholls – a former 18-time National champion - has a message for young swimmers including those destined for the Canada Summer Games set for August 6 to 21 in Niagara.
"Enjoy the experience, observe, learn, grow, and use the Canada Summer Games as a platform for something better," she said. "It truly is a wonderful opportunity to be successful and build on something better down the road."
---
David Grossman is a veteran multi award-winning Journalist and Broadcaster with some of Canada's major media, including the Toronto Star and SPORTSNET 590 THE FAN, and a Public Relations professional for 45+ years in Canadian sports and Government relations.