Features
April 14, 2022
Canada Games Legacy Series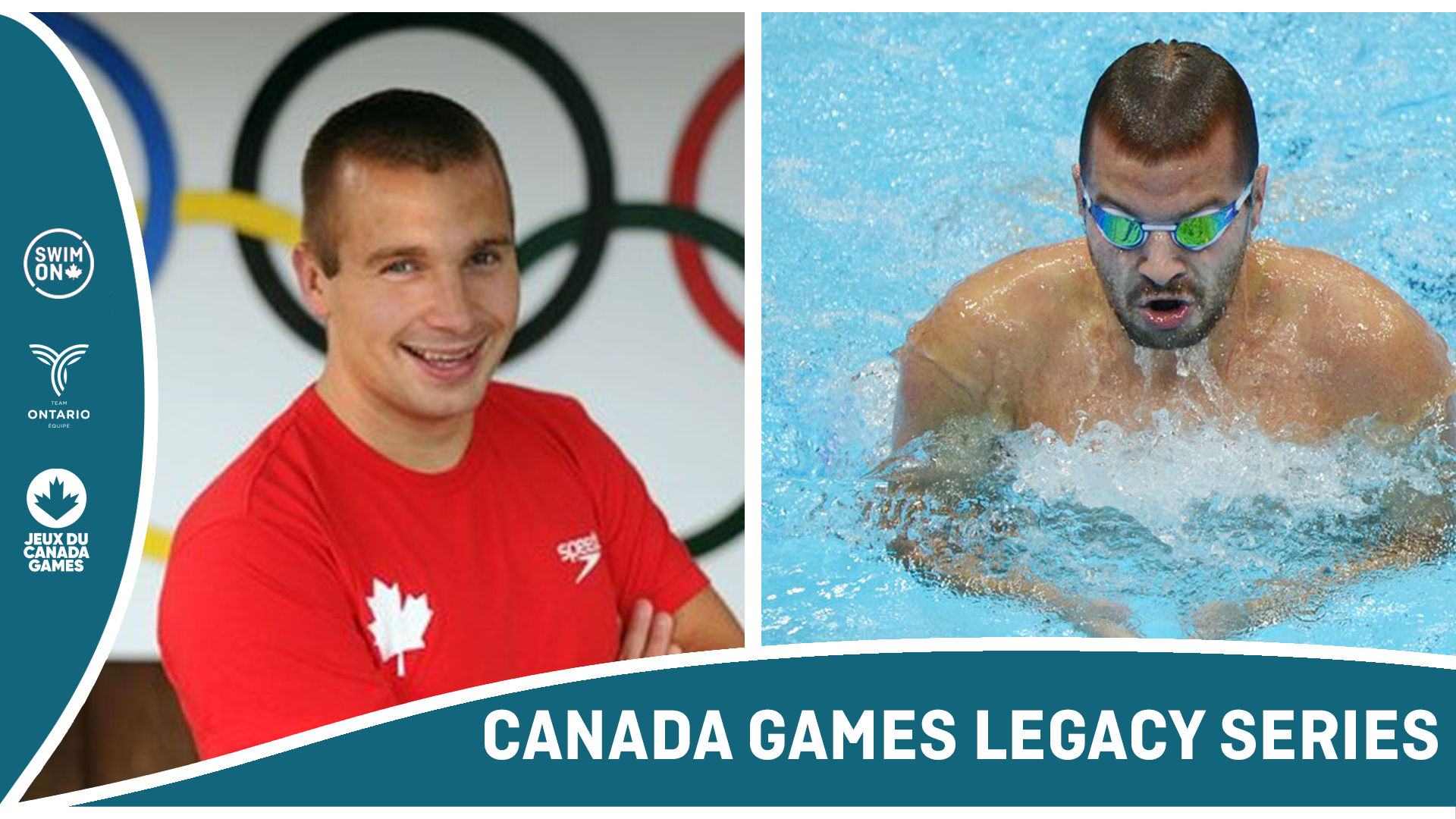 Michael Heath
Over the next few weeks, Swim Ontario is presenting the Canada Games Legacy Series, where we take a look back at swimmers who represented Team Ontario at past Canada Summer Games.
---
There is a chance that you have likely never heard of a place called Golspie.
No, it's not in the Lord of the Rings trilogy or any of the Harry Potter movies.
Golspie is a small hamlet you'll find on the map, located just west of Woodstock, the Ontario city, and not the location for the famous 1969 music festival that happened on a dairy farm.
This rural community is home for an Ontario swimmer who has left his mark on previous
Canada Summer Games sports competitions. To explain it in another way, Heath was superb in one race after another.
He has the medals to prove it.
To prove it was no fluke, Heath did it again four years later.
When asked what it was like, Heath couldn't stop talking about the thrill of his life – representing his province against others from coast to coast at the National spectacle of amateur sports talent.
The year, 2005. The place, Regina, Sask. Heath, then a 16-year-old, won five medals in the pool. It was also his first major competition.
Boasting a "never give up attitude", Heath showed his hard work and dedication resulted in several trips to the medal podium.
"Gosh, it meant a lot to me," said Heath, who is intellectually impaired. "At first, I was scared, nervous and didn't know what to expect. I just stayed focussed and did my best."
For someone who wasn't fond of water as a toddler, likely because he couldn't touch the bottom of the pool, Heath took a while to overcome hesitancy and being unsure. But that all eventually vanished.
For Heath, the trip from the water to the rostrum spotlight became something that can best be described as, well, gratifying.
Four years later, in 2009 in Charlottetown, PEI., Heath was back at it. You guessed it, five more medals.
"It was never about medals or winning awards, but representing my province and myself," said Heath, a graduate of College Avenue Secondary School. "I dictated who I was and what I wanted. I remember being told that I'll never be good enough. What I did was ignore those people and did what I had to do."
Heath started competitive swimming at the age of five. His mother, Kelly, thought it would be good for her son as his sister was a competitive swimmer. From the Ingersoll Speed Sharks to the Tillsonburg Aquatic Torpedoes to the Wilmot Aquatic Aces, Heath was a true club swimmer.
"Back then, it was really overwhelming," said Heath. "But after a while, I felt that being in water was like home. I was surrounded by people who supported me."
At age eight, Heath's mother said he was mis-diagnosed as having attention deficit hyperactivity disorder (ADHD).
Medical specialists say a person with ADHD has differences in brain development that affect attention, self-control, and the capability to sit still. It's something that can affect a younger person child in the social world, at home or school, and with other people.
"People made fun of me, I was attacked and became a victim of bullies," said Heath, with his mother looking on and confirming that her son was later properly assessed. "For me, swimming was my haven. It was where I forgot about the problems and had fun."
Having taken medication for a six-year period and a condition his mother said he didn't have, things improved dramatically for Heath. Swimming became more of a celebration.
"I remember getting hooked on swimming," he said. "I just had this urge to compete – to have fun. Good coaching helped me. The days of being nervous, scared, and frightened were gone. I was happy. You don't know the feeling of accomplishing something special until you get there."
Heath reiterated that it was getting to the Canada Summer Games that became his biggest award.
But there would be more.
In 2010, Heath was off to the Netherlands, competing in the World Intellectually Disabled swim championships. He left with a bronze medal in the 100-metre breaststroke, and also made it to the final round of the 100-metre backstroke.
In both cases, Heath was entered in the S14 category, a classification for athletes with an intellectual impairment, such as difficulties in pattern recognition and memory. These can have an impact on sport performance as swimmers and, in this grouping, show a higher number of strokes relative to their speed than able-bodied swimmers.
A year later, Heath was at the 2011 Special Olympics in Greece and in 2012, he participated in the Pan Pacific Para-Swimming Championships, taking home a bronze medal in the 100-metre breaststroke multi-Disability.
That same year, he would reach his dream come true – the Paralympic Games in London, England.
"I was in the backstroke, freestyle and breaststroke races, but didn't make it out of the heats," said Heath, who had asked and received assistance from a personal trainer. "Just being there, representing Canada, was an award."
Fabulous memories shared of an Ontario swimmer, who did it his way.
"Now, I am retired from swimming and in a new chapter of my life," he said. "I set out what I had wanted to achieve – and I did it. Swimming got me very far in life and for that, I am very happy.
"If you're dedicated to swimming, like I was, you want to go as far as you can. Don't give up, stick with it and one day, it will pay off. There are hardships that will test your physical and mental capabilities. I just kept telling myself, that I could do it."
---
David Grossman is a veteran multi award-winning Journalist and Broadcaster with some of Canada's major media, including the Toronto Star and SPORTSNET 590 THE FAN, and a Public Relations professional for 45+ years in Canadian sports and Government relations