Features
August 2, 2022
Canada Games Team Feature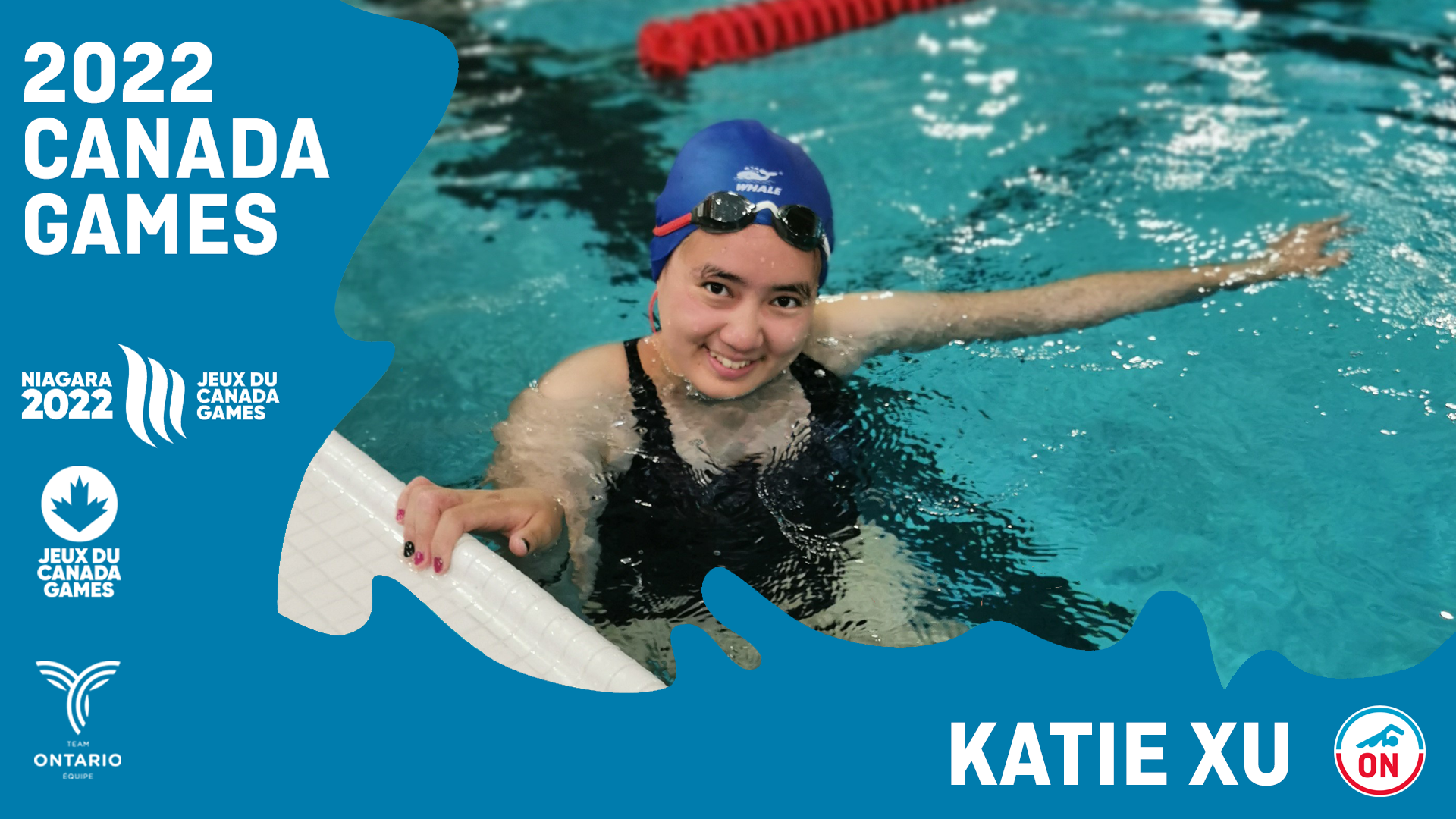 Katie Xu
Leading up to the 2022 Canada Games, we are sharing stories about some of the people representing Team Ontario in the pool this summer
---
Katie Xu is always looking for perks in her life.
She's done television commercials, is a multi-sport athlete, and has won several medals at Special Olympics competitions. Talk with Xu, and members of her family, and it's quick to see how sports has changed her life.
A great deal of her exuberance and desire to reach for the top, to be among the best of the best, amounts to doing something challenging and rewarding. It's a big task and achieving it despite plagued by adversity or obstacles.
Once a shy and introverted young girl with autism spectrum disorder, a developmental disability creating challenges with social skills, things have changed over the years for this young and heralded woman.
She has gained self-assurance, fortitude and courage while always focussed on trying to improve. Gone are doubts, indecisiveness, and any apprehension.
Now, quite popular with peers, her family believes it's been the physical and active involvement in sports – particularly in swimming and figure skating – that speaks volumes.
Xu has been involved in Special Olympics since she was eight years old. Listen to her reply about what a life in physical activity has meant to her, and it's easy to see how the world of sport can have a huge impact on a person and build esteem.
"Happy and gaining more confidence, every day," said Xu, who lives in Kanata, a suburb of Ottawa. "Medals, trophies, and plaques are great – but that comes from hard work, making my body more powerful and pushing myself.
"Sports has helped me meet new people and make friends. I've also become stronger and healthier. When I compete, I am so proud to represent Ontario and Canada."
While her primary focus has been on figure skating, Xu made it clear that there was a time when she didn't like water. Those times changed for the now 23-year-old who, and it perked while on a vacation to Cuba, watching swimmers and deciding she would copy them in a pool.
Xu knows that she'll have another opportunity to shine after being chosen to Ontario's squad for the 2022 Canada Games that will take place in St. Catharines from August 6 to 21. Swimming competition is set for Brock University and the largest swimming pool in the Region of Niagara.
It was her mother who received notification that Xu, after putting up some solid qualifying times at the selection meet in Toronto, had been nominated. The message was shared, and the emotional excitement poured out.
"The plan is to have fun, meet more people, do my best - and swim fast," said Xu, who is a graduate of Sir Guy Carleton Secondary, a school that specializes in skilled trades education and was chosen the 2020 Athlete of the Year by Special Olympics Ontario.
Xu, who will compete in the freestyle, breaststroke and backstroke events at the Canada Games, swims with the Ottawa Nepean Riptides Special Olympics and trains four days a week at the Nepean Sportsplex.
Michele Brenning has been following the constantly improving accomplishments of Xu since she first saw her swim three years ago.
"At first, I didn't know much about her, but then could see a willingness to learn and is always ready to try something new," said Brenning, who is the volunteer head coach of the Riptides swim club.
"Her strokes, her turns, she works very hard and has really improved. (Xu) is in our advanced swim program, likes to emulate others and challenge herself to everything. Going to the Canada Games, it'll be about feeling the excitement, the journey, and the experience."
In June of this year, Xu competed against able-bodies swimmers in the masters 800-metres freestyle event for the first time. All she did in the race – 32 lengths of the pool at the Nepean Sportsplex – was finish first in her age group in a time of 15 minutes, 45.52 seconds.
For her, it will be a first time to the Canada Games, the national showcase of amateur sport. In 2017, she attended the World Special Olympics in Austria – but that was for figure skating – and left with a trio of medals. In 2018, she competed at the Special Olympics Canada Games and left Antigonish, N.S. with three medals.
---
David Grossman is a veteran multi award-winning Journalist and Broadcaster with some of Canada's major media, including the Toronto Star and SPORTSNET 590 THE FAN, and a Public Relations professional for 45+ years in Canadian sports and Government relations.