Features
July 21, 2022
Canada Games Team Feature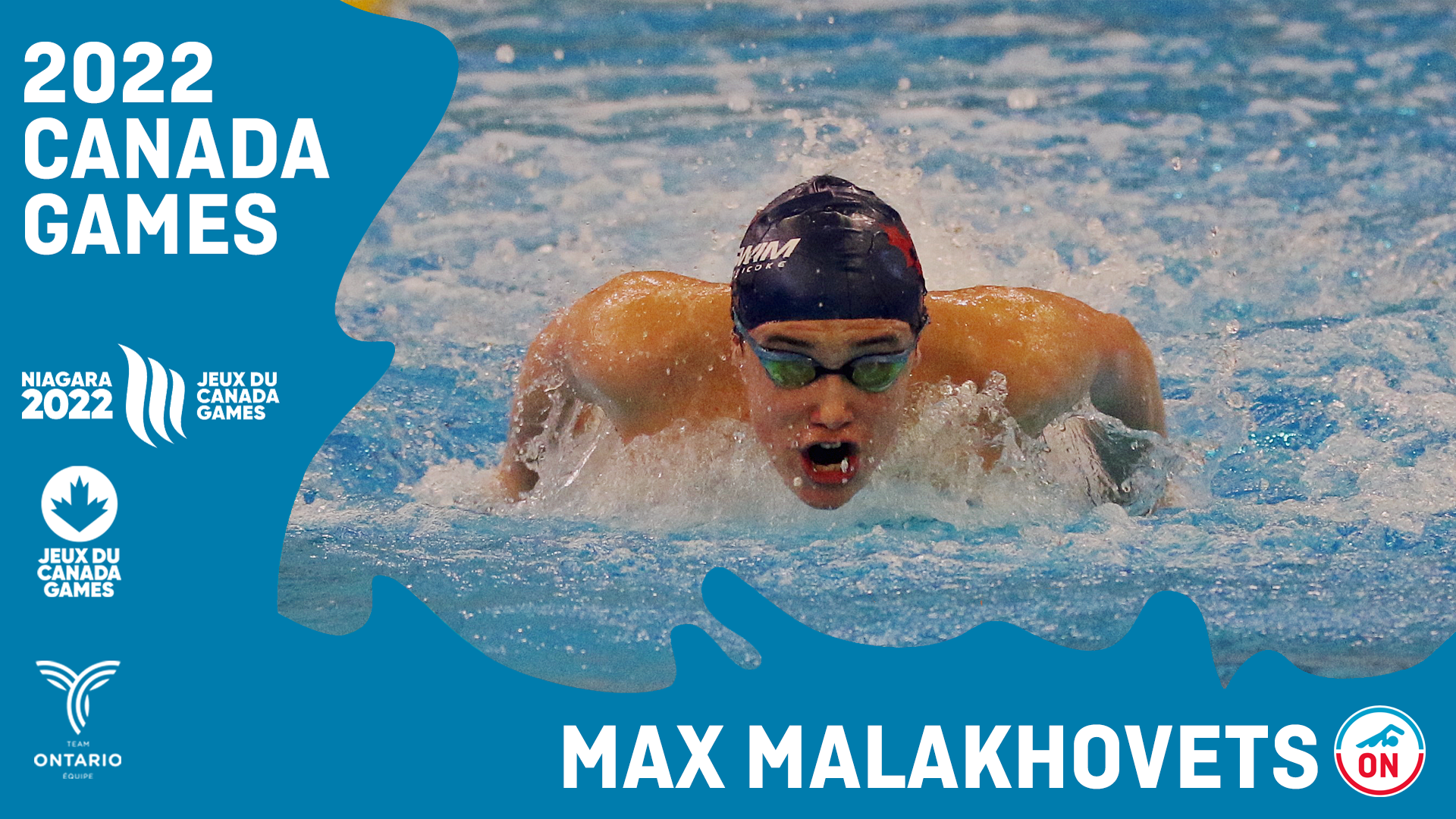 Max Malakhovets
Leading up to the 2022 Canada Games, we are sharing stories about some of the people representing Team Ontario in the pool this summer
---
You have likely heard people say, somewhere in a conversation, "you'll never forget that day".
Max Malakhovets has had several of those moments.
The magic carpet ride may have started a few years ago, but now the 17-year-old is enjoying a life where education and swimming are front and centre. Both bode well. It has been a year of academic honors and personal best times in the water.
Now, he can add one more bonus in a personal highlight reel that, in many ways, is just starting.
It was just after he finished a challenging practice at the Etobicoke Olympium pool, that Malakhovets checked his e-mail to see a note from Swim Ontario advising him that he was chosen to compete at the Canada Games.
Malakhovets won't forget that day.
"I was so excited, I knew that I had been highly ranked in my age group, but this was huge for me – getting to compete against other swimmers from across Canada," said Malakhovets, who is a student at Toronto's Silverthorn Collegiate and in a High Performance Program that allows for intense training schedules, and a more flexible timetable to balance out of school commitments.
"My goal is to be one of the best male swimmers in Canada and this gives me an opportunity to work even harder to reach that goal. The focus will be to keep getting personal best times, grab some medals and continue to do my best."
Bright, intellectual, strong, and committed, he has one more year of high school before hand-picking a post-secondary route. Malakhovets is considering a few Canadian universities, but could very well end up going to be a school in the United States and challenging for glory in the National Collegiate Athletic Association.
Malakhovets likely won't forget that day either - especially when it happens.
Born in Arkhangelsk, a northwestern Russian city, he has lived in the United States and Sweden. At age seven, he came to Canada with his family. Living near the Olympium, was when he started to learn to swim. His parents endorsed his interest, but it took some time for him to move from the recreational side of the sport to the more challenging competitive.
"I became quite serious (about swimming) and joined the Etobicoke Swim Club," he said. "Now, I'm in the water nine times a week and benefitting from some very good coaching."
Measuring in at six feet and lanky, he's been a big fan of Hungarian-born swimmer Kristóf Milák who, in 2019, broke Michael Phelps world record in the 200-metres butterfly. Phelps is the most successful and decorated Olympian of all time and a 28-time Olympic medallist.
"I really liked (Milak's) mental attitude, his focus and the success that came with it," said Malakhovets. "I also know that this just doesn't happen, it takes a great deal of work."
To some, Malakhovets is known as a freestyle swimmer, but hold on. He also has a personal best time of 55.5 seconds clocked in the 100-metres butterfly at the 2022 Canadian Trials in Vancouver.
Dripping with charisma, Malakhovets is taking the time to perfect his strokes to compete with the best.
"I'm a driven guy, focussed and determined," he said in a telephone conversation. "Swimming provides me with an opportunity to be my best. I work hard and the focus is to work even harder and try make my dreams come true."
Malakhovets said he has a great relationship with his coach, Robert Novak, a man known for honesty and communication. The triumphs and prosperity at the Etobicoke Swim Club, one of the dominant swim clubs in Canada, have come from a history of coaches with sound leadership, education, and experience.
"I trust his program and he's made me a better swimmer – mentally and physically," said Malakhovets. "There is still lots more work to be done and it requires patience and training."
While no one knows for sure, Malakhovets – in the top 10 of the 200-metres butterfly in Canada - just may be on the cusp of stardom.
"If he works hard, you never know," said Novak, who mentioned that Malakhovets had just missed out on being chosen to the Junior National team. "He wants to grow in the sport and he's becoming more of a student of the sport – determined and focussed. On his part, it's learning. For me, it's coaching and patience."
Making it to a higher level of international competition, a Pan Am Games, Commonwealth Games or even Olympic Games, when and if that day comes, count on Malakhovets not forgetting that day.
---
David Grossman is a veteran multi award-winning Journalist and Broadcaster with some of Canada's major media, including the Toronto Star and SPORTSNET 590 THE FAN, and a Public Relations professional for 45+ years in Canadian sports and Government relations.