Features
March 24, 2022
Canada Games Legacy Series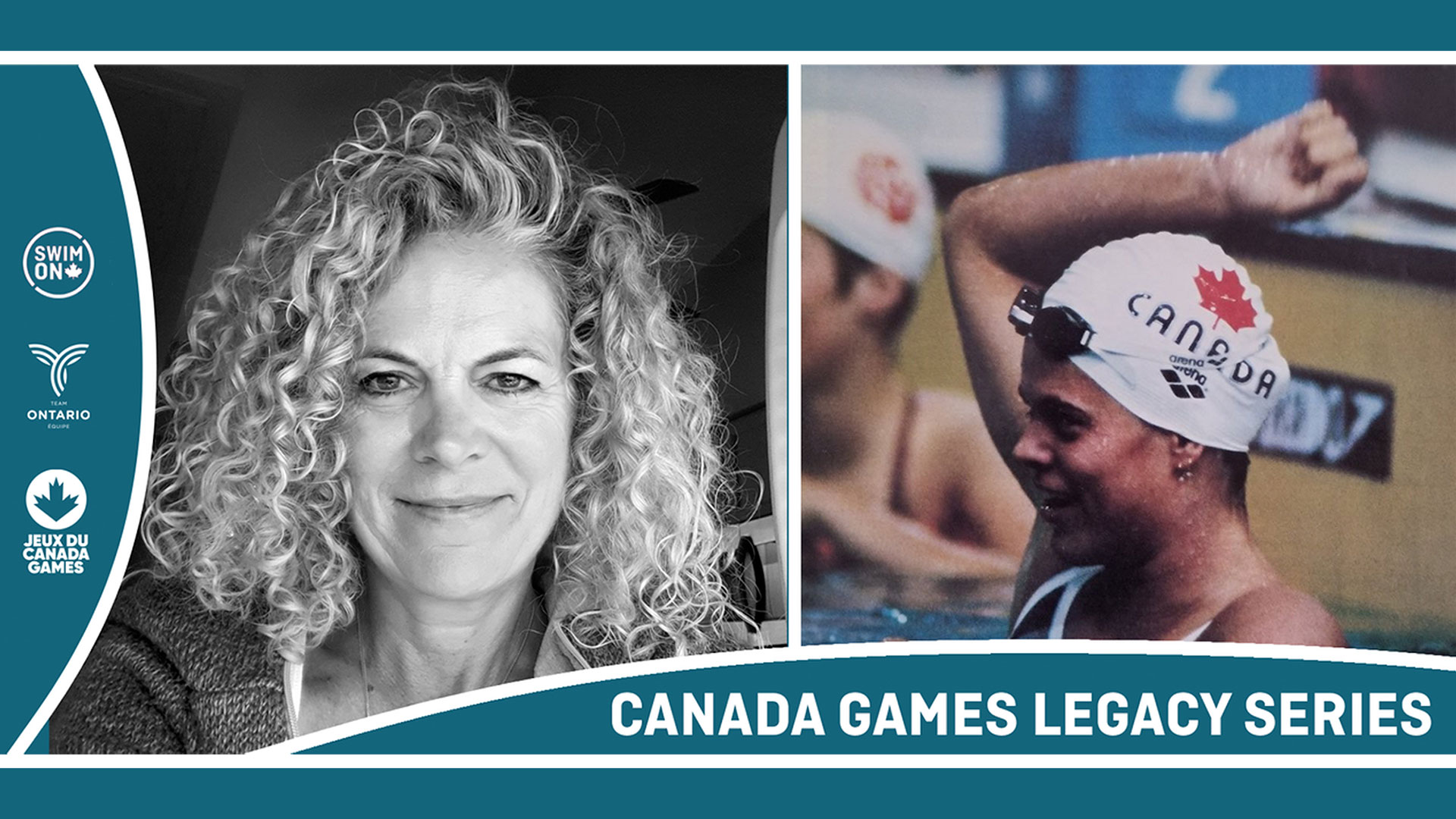 Kathy Bald
Over the next few weeks, Swim Ontario is presenting the Canada Games Legacy Series, where we take a look back at swimmers who represented Team Ontario at past Canada Summer Games.

---

You have likely heard the expression "a touch of comfort can go a long way".
There's quite a bit of truth to that as well, as many know that nothing meaningful comes easy. That also speaks volumes in the life of a competitive swimmer, with aspirations of reaching the major events.
Finding ways for improvement is crucial. Magic just doesn't appear.
As a youngster, Kathy Bald had an interesting situation develop.
When her parents chose swimming as a means of helping their hyperactive child, little did anyone know at the time, that Bald would one day be inducted into the Ontario Aquatic Hall of Fame.
Swim classes at the YMCA in Ottawa were a great start for a nine-year old who, back then, had difficulty finishing one length of the pool.
Three years later, Bald was the fastest 12-year-old female in Canada, having established a national record in the 100-metre freestyle. Impressive, indeed.
While it may have been her first huge Canadian achievement, and it happened on her birthday, the good times in the pool were just starting to occur for the native of Toronto - and now living in Penetanguishene.
At age 13, Bald would become the youngest member of Ontario's swim team to compete at the Canada Summer Games held in St. John's Nfld. That was in 1977, the same year that a gallon of gas cost 65 cents, the "King of Rock and Roll" Elvis Presley had died, and an AM radio, worn on the wrist, was $7.50.
Bald remembers being a last-minute addition to the team. Not sure if that went over well back then, but she did her job and helped the relay teams leave the event with gold and silver medals in freestyle races.
Things were really on a roll for Bald. Experienced, more advanced, confident, focused and not needing any reassurance, she caught coast-to-coast attention at the Canada Summer Games of 1981 in Thunder Bay.
"It was so much fun, we had a strong women's swim team, and these Games were very important to me," said Bald, who would be part of a foursome that set a Games record.
Now, for a reality grabber. While the four swimmers were receiving their gold medal in the 4 x 200-metres freestyle relay, the public address announcer made it known that their time, while not a world record, was the fastest time on the planet that year.
Medals, memories, and great stories from 1981 would last forever and the Canada Summer Games would become the springboard for many wonderful times. That comfort level, back when she was a youngster, had settled in nicely with hard work, and the right advice.
"There is always lots to learn, ways to get better with personal special achievements," said Bald. "I'll always remember hearing that announcement that we were the best in the world at the time. That really was something not many can say."
Later this year, from August 6 to 21, Niagara will host the 2022 Canada Summer Games. It'll likely be the debut of more outstanding swimmers with similar goals as Bald.
Bald would go on to the World championship in 1982 in Equador, winning a B Final race in the 200-metres. That same year, in Australia, another gold medal. This time, in the 100-metres breaststroke at the Commonwealth Games and she would add a silver using the same stroke in the 200-metres. Bald bid farewell to Brisbane, as the Canadian flag bearer for the Closing Ceremonies.
"It was quite the ride going from nothing as a young girl to making it to the World championship," said Bald, whose career is in business administration with an international telecommunications firm.
Great swimmers tend to get better – and Bald, once affiliated with the University of Toronto, thought she was in that category.
In 1983, Bald dominated the competition with four medals at the Pan Am Games in Venezuela. However, it was some personal devastation a year later at the Olympic Trials. She didn't make the team. What would follow would be a decision to quit competitive swimming.
Not sure what changed her mind, but after two years of retirement, Bald was back. In 1988, she was on Canada's team that competed at the Summer Olympics in South Korea and was a member of the 4 x 100-metres freestyle relay team that placed sixth.
"The Canada Summer Games will always be something very special to me," said Bald. "It's a beginning for so many, an opportunity to challenge, and understand that you're in the spotlight of Canadian swimmers."
---
David Grossman is a veteran multi award-winning Journalist and Broadcaster with some of Canada's major media, including the Toronto Star and SPORTSNET 590 THE FAN, and a Public Relations professional for 45+ years in Canadian sports and Government relations.