Features
July 11, 2023
"Yes, swimming is great but, as they get older, I want them to be successful in their lives."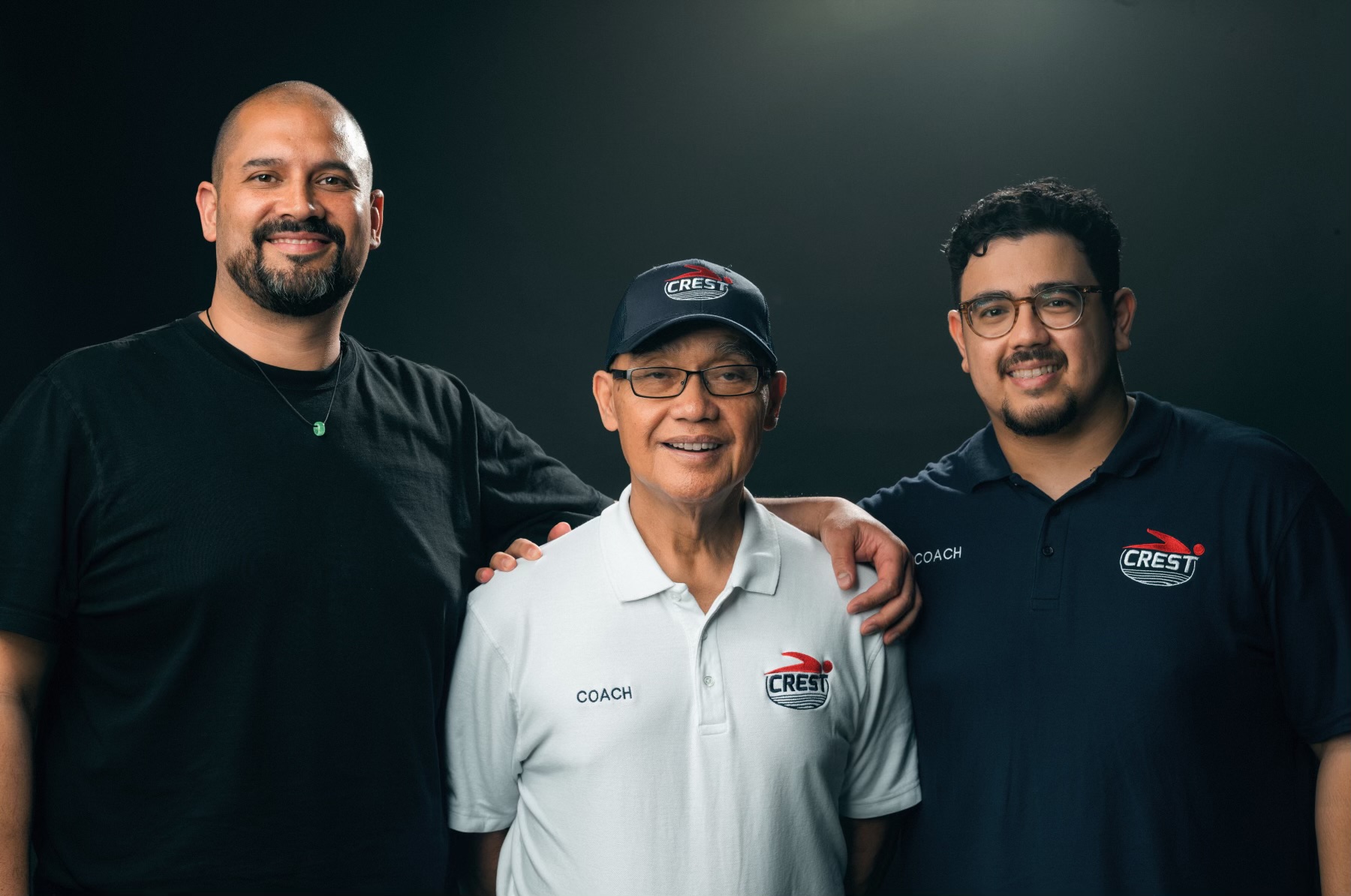 Wilfred Arzaga
Wilfred Arzaga refuses to give up.
The opportunity was staring him in the face several months ago, but if you know this man then you also know the power of his enthusiasm, passion and dedication to swimming is something that keeps him going day after day.
Now, there's an extra force – the memory of his wife. Year after year, she supported his dream of one day seeing a member of Toronto's CREST Swim Club reach the Summer Olympics. It hasn't happened since the club was formed back in 1981.
In the latter half of 2022, Arzaga's wife, Maria, lost her battle with cancer. An oncology nurse, the disease spread from her back to her lungs. The pain was quite severe and he knew their 48-year marriage was coming to a close.
"She wanted me to continue coaching, do what I enjoy and maybe one day, a member of our swim club would make (the Olympic Games)," said the 77-year-old Arzaga. "Twice, we looked good at the Canadian Olympic Trials, but the last time, four swimmers didn't make it out of the Trials."
Arzaga, who puts in an average of 16 to 20 hours a week and often seven days, is struggling to keep the club functioning. He has between 40 and 50 swimmers in the competitive side of the program while the pre-competitive has tumbled to about 15 swimmers.
The CREST Swim Club is nothing fancy and doesn't have the attraction of running programs out of a major swim facility. It's small, a place where everybody knows everyone - and located in an indoor recreational centre property that is part of a huge condo facility just a bit east of midtown Toronto.
It was 42 years ago that Arzaga, a man who wanted to give something back to Canada in appreciation for accepting him as an immigrant from the Phillipines in 1974, that he launched CREST.
His program has had its share of National and Provincial success in the pool. The big international highlight may have occurred in 2022 in Hawaii. That's when two members of the program finished in the top 10 at the Junior Pan Pacific championships. But the cupboard is still empty when it relates to the Pan Am, Commonwealth, World and Olympic events.
CREST does bode well as an organization that has its swimmers focussed on meeting friends and staying in good physical shape. Coaching is also supreme.
"Canada has been great to me, and my family, and by offering to coach young people, it's not only something that I enjoy, find important, but it's just a small way of giving back and saying thank you," said Arzaga, who is the father of three and has five grandchildren.
"We have had many swimmers from immigrant families and maybe we're seeing something as simple as a sudden lack of interest showing while it could also be that families can no longer afford swim programs. I'm really not sure."
CREST functions in a 25-metre pool for training, intense programs and guidance from Arzaga, and two assistant coaches Che' Mineque and Andrew (A.J.) Isleta, who devote their time to helping young swimmers leave the pool stronger and more confident than when they first joined.
"I used to live in the complex and took our kids for swimming," recalled Arzaga, proud of the fact that they, now professionals, at one time were Nationally-ranked in the sport. "I liked coaching them, word spread and there was interest in starting up the club. So, I took advantage of the opportunity and, now it has been four decades."
Before coming to Canada, Arzaga was a Nationally-ranked swimmer in the southeast Asian country. The butterfly and freestyle were his specialty events when he wasn't deep in medical exams, and later getting his degree in sciences. When financial situations wouldn't allow him to pursue medicine, he re-focussed on education and the National College of Physical Education.
A passion to coach quickly emanated, and he spent time in the United States. Specifically, it was Indiana and California, observing and studying the fundamentals of good coaching. When he packed up and left Manila with his wife, and arrived in Toronto, adjustments and adapting to changes was a challenge.
He wanted to teach, but didn't have the necessary credentials. An opportunity came up, and Arzaga worked in Information Technology at the Ontario Ministry of Education for 25 years.
A man of integrity and sterling quality, Arzaga's ability to bring the best out of young swimmers did not go un-noticed. In 1996, he was chosen Coach of the Year by Swim Ontario. A decade later, again Arzaga was recognized and this time with an Excellence in Coaching award by the Canadian Swimming Coaches and Teachers Association.
At CREST Swimming, there is no catalogue given to each swimmer. Not even a written list of essential tips and suggestions. Instead, Arzaga has a clear and concise message he reiterates: no short cuts to success, but plenty of hard work.
The philosophy at CREST Swimming continues to be one of equity, diversity, inclusion, and accessibility. According to Arzaga, it has always been based on both affordability and athletic ability. Swimmers are not divided into levels or groups based on competence or qualifications.
It's more than passion that stimulates Arzaga to coach. More like affection, devotion and resounding joy in helping young swimmers that have blossomed the group into, at one time, becoming one of the smallest, but premier, swim clubs in the country.
Always enthusiastic, displaying outstanding qualities and inspiring success, Arzaga thrives on seeing growth and development in young swimmers.
"While I learned the hard way, I like to give kids encouragement, stress patience, talk with them – the pep talks with positive reinforcement, a message of personal improvement and to stay out of trouble," he said. "There's more than just getting in to the water. It's about setting objectives and teaching them values."
It's worked. Arzaga just has to look back at many former members of CREST Swimming. Not those who claimed medals, trophies and other awards. Former swimmers, under his tutelage, have gone on to a variety of professions ranging from medicine to engineering, law to teaching.
"These young people are like extended family to me," he said. "Yes, swimming is great but, as they get older, I want them to be successful in their lives."
Nurturing strong relationships, Arzaga developed a robust bond with the Crescent Town Club in the early years. It was something that resulted in him not being charged for pool time. Worth noting, Arzaga, at the time, also did not insist on a fee for coaching kids in the local community.
For those who only look at performance in the pool, there has been much to celebrate. CREST has won numerous small team awards at meets, and the club has also developed some outstanding swimmers. Now, the task is maintaining a road to triumph and prosperity.
"My interest is still there and moreso now," said Arzaga, who continues to run swim seminars in the Philippines during the quiet months. "My wife saw my enthusiasm for coaching and helping others learn and I know I continue to do my best. Maybe one year, my dream will come true."
---
David Grossman is a veteran award-winning Journalist, Broadcaster with some of Canada's major media, including the Toronto Star and SPORTSNET 590 THE FAN, and a Public Relations professional for 50+ years in Canadian sports and Government relations.